Travis Kvapil, a NASCAR Sprint Cup Series driver, was forced to withdraw from this weekend's race after his car and hauler were stolen from his hotel near Atlanta.
A trailer with his red number 44 Chevy SS stock car was hitched to his black 2004 Ford F-350 dually.  The truck and trailer were parked outside of his hotel room in Morrow, Georgia, about 15 miles outside of Atlanta.
Surveillance camera video shows the truck and trailer being driven out of the parking lot at around 5:30 a.m, officials said.
The trailer is all white with no markings.  The thief probably didn't realize that the racecar was inside.  They probably thought that it was lawn equipment or something else that could be easily sold.
The 2015 Chevy stock car is valued at $250,000, according to a police report.  Also inside the trailer was a spare engine valued at $100,000, as well as tools valued at about $18,000.
A spokesman for Kvapil said that the team has withdrawn from the race this weekend, due to the lack of a back up car.
If you have any information on the stolen car, please call the Morrow Police Department at (770) 961-4006.  If you see the truck and trailer on the road, both have New Jersey plates.
The F-350 is a black crew cab dually.  The trailer is a plain white bumper hitch dual-axle trailer.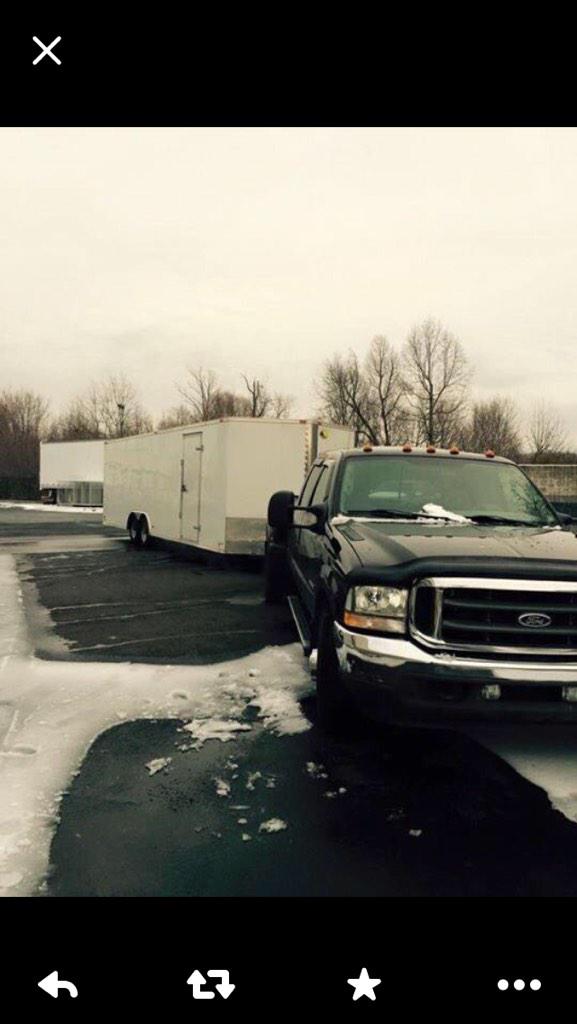 Here's a picture of Kvapil's car:
If you see the truck and trailer on the road, call 9-1-1.  They'll tell you what to do.
If you see the stock car on the road, good luck catching up to it!  It can hit about 200 mph, and will withstand a crash far better than whatever you drive.  It's also pretty hard to miss. Oh, and it's really loud!  That being said, you probably won't see it out on the road, especially back east!  Those big slicks won't do it any favors in the snow…